Gantry Company Custom Grayscale Artwork
Our main business over the years has been the generation of custom GrayGraphics designs.
Custom work is charged only by the actual hours used to create and verify the artwork at a
rate of $35/hr USD. There is a minimum artwork charge of 1 hour.

Logos and almost any other kind of composition can be good candidates for laser carving.
One of a kind portraits, however, can be problematic and are usually discouraged.
Artwork generation can be time consuming - perhaps exceeding that of a single original
hand carving. Once the artwork is complete, however, an unlimited number of precise and
reliably repeatable engravings can be produced.

Quality finished artwork is the quickest path to volume production, low unit cost and
eye-catching detail and precision that far surpasses anything that can be done by hand!

Artwork costs can vary considerably, mostly due to two factors:
• Quality of the customer input which can be anything from just an 'idea' to prepress quality digital files. We accept input anywhere
from 'ideas' to pencil sketches to digital formats .jpg, .gif, .bmp, .tif, .cdr (10.0 or lower), .eps or .ai (8.0 or lower). The more refined
the input the lower the final cost. If possible, try to limit e-mailed digital input to less than 2MB.

• Complexity of the desired design and amount of detail required. Artwork size is not a significant factor other than considering that
excessive detail in very small (1-1.5 inch) engraving applications can get 'washed out' with most engravers.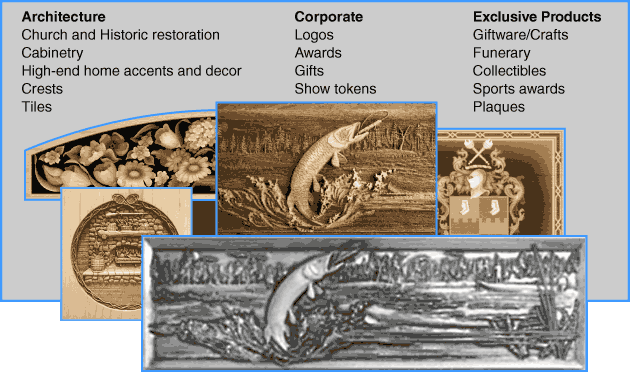 Contact us for an estimate of your projects' artwork costs. In our experience, grayscale rendered artwork can take anywhere
from 6 to 50+hrs. For those agreeable to waiving exclusive rights to the artwork we may be able to offer a substantial discount.

Also be sure to check out our Partner Program for an additional 10% discount on any exclusive Custom designs.
Custom Artwork only - pay Invoice




• Enter the name of the Custom Artwork file
being paid for in the box at right

• Select 'PayPal' and enter the amount
invoiced and being paid for

• Confirm the Custom Artwork file name if prompted

• Production file will ship as an e-mail attachment
to the e-mail address you entered in PayPal

Invoice Payment
for Custom Artwork


We offer our customers the quick turnaround and convenience of using PayPal.
PayPal orders incur a small service/handling charge.

Nebraska residents add 5.5% NE sales tax



Thank You for making Gantry your laser engraving artwork resource!